COLLIER KENNELS can take your dog to its highest potential, whatever your bird dog training needs are:
obedience

hunting

pointing

retrieving

rattlesnake avoidance

or refresher training
JAMES COLLIER, owner of COLLIER KENNELS, is a veteran Bird Dog Trainer. It would be difficult to find a trainer more qualified or more successful in preparing a Bird Dog to please its master and perform well during the bird hunt.
By using positive motivational training all the dog¡¯s natural ability, which is controlled by his or her genetic make-up, is brought up to the highest level.
At some time during the training, compulsion may be used and correction may occur--but only when the Bird Dog knows the difference between a mistake and disobedience. James does not use a loud voice, hit, or strike any dog. Bird dogs are bred to hunt, but good training techniques are essential in developing the dog's natural instincts and intensifying their innate desire to please their owner. Remember, good training is 85% reward, 10% correction, and 5% discipline.
COLLIER KENNELS also provides Refresher Training for your Bird Dog. Dogs need to get in shape prior to hunting season. They need to be refreshed on commands and how to work with other dogs. All dogs get a little "rusty" after not hunting for 8-9 months.' The Refresher Training puts your Bird Dog at the top of its game.
Please refer to testimonials that further document JAMES COLLIER'S experience, expertise, and success in Bird Dog Training.

A FEW OF OUR FAVORITE BIRD DOG PHOTOS
The pleasure of dog ownership is enhanced when the dog is well-behaved and well-adjusted. With this in mind, our main focus is to prepare your dog for its environment using positive reinforcement.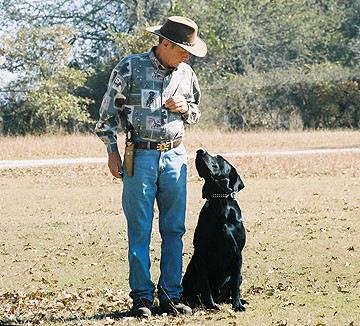 The owner, JAMES COLLIER, has over 40 years' training experience with all breeds of dogs. His broad-based experience and knowledge in Tracking, Protection, Obedience, and Confirmation give him the skills to accomplish the maximum results in all phases of training.
As a 2nd generation trainer, James' ability to communicate with animals is unequalled. These skills are complimented by his acknowledgement that the dog owner needs full understanding of the way the dog thinks and responds. Therefore, whatever your dog's positive motivational program requires, from housebreaking to developing a specialized program for a problem dog, James has the experience and expertise to provide the service.
For the convenience of the dog owner, Private Obedience Training Sessions can be scheduled at COLLIER KENNELS or at the home of the client.